Guermonprez, ChBE 1989, is global quality director for Aptar CSP Technologies
Wednesday, 28 August 2019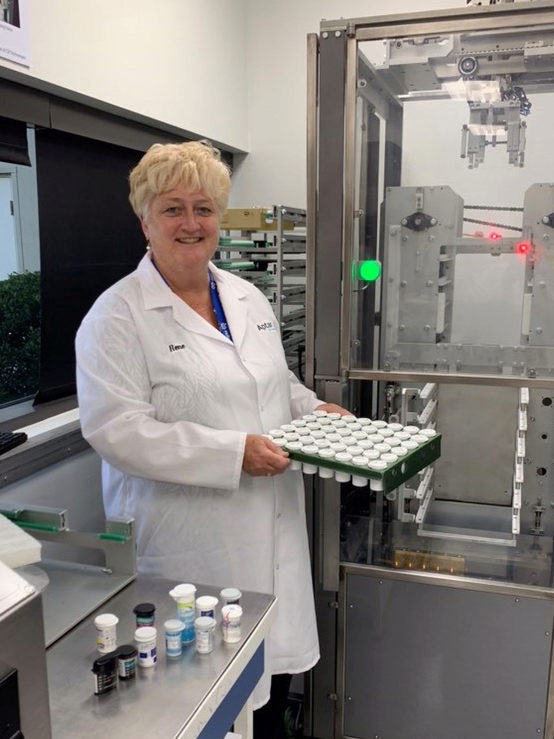 Rene Guermonprez, ChBE 1989, say she's grateful for the many people who looked out for her on her way to becoming the first college graduate in her family. And now she's committed to paying it forward.
Those who facilitated her journey included not only many professional mentors, but also a family she babysat for who allowed her to use their car to reach her classes at Armstrong State University, where she first earned a degree in chemistry before coming to Georgia Tech's School of Chemical & Biomolecular Engineering.
As she worked summers as an intern at the Union Camp paper mill in Savannah, Georgia, engineers there recognized her potential and encouraged her to come to Tech. "I worked in the chemical development area at the mill and realized I needed a chemical engineering degree to advance," she says.
Guermonprez, who grew up in Long Island, New York, and moved to Savannah in 10th grade, says she never took the help and guidance she received along the way for granted. "Now it's inherent in me to try to do the same for others," she says.
Ensuring Quality
Now Global Quality Director for Aptar CSP Technologies, based in Auburn, Alabama, Guermonprez leads a team of engineering professionals to ensure quality at the company's facilities in the United States and Europe.
She explains that there's an important HR component to her role: "I hire people, train them, and work with the management team to assess where they'll be a good fit. I love helping develop people and teaching them how to make our products work for our customers."
Guermonprez credits her balance of soft and technical skills with helping her rise to be the first female site production superintendent in Georgia for Engelhard Corporation (now part of BASF) where she started her career after graduating from Tech in 1989. There she appreciated the mentorship she received from two Georgia Tech alumni also employed by the diversified catalysts company.
While employed by Engelhard, she won several corporate quality control awards and received credit on a patent for a paper-processing technique involving kaolin pigments that is still being used in newsprint production.
She left Engelhard in 1999 because she and her spouse were starting a family and wanted to move from Macon, Georgia, to Columbus, Georgia, to be closer to a family support network.
Her wife, attorney Angela Sellers, started developing her legal practice there as Guermonprez began sending out resumes.
Career Transition
Taking a step back from management, Guermonprez joined a startup, CSP Technologies, which focused on active chemistry in plastics. She returned to a technical role as a quality engineer, running design experiments and developing the quality system.
Initially one of only five people with the company in 1999, Guermonprez has helped CSP expand substantially during her 20-plus years with the company. By the time Aptar acquired it in late 2018, CSP had grown to employ over 500 people.
Aptar CSP Technologies' portfolio of products includes vials, films and blisters, molded components, and specialized packaging solutions. Its active-chemistry solutions and services protect sensitive products in industries such as pharmaceuticals, drug-delivery systems/medical devices, diagnostics, food, and electronics. Examples range from diabetes test strip containers and inhaler active packaging to bulk food trays and mini M&M containers.
"Working with customers who have a challenge and coming up with a solution is exciting to me," Guermonprez says.  "I thrive with understanding processes and how to keep things under control. That's how my mind works."
Recruiting Tech Talent
A member of ChBE's External Advisory Board since 2016, Guermonprez actively recruits the School's students, hosting lunch-and-learn sessions with the student chapter of the American Institute of Chemical Engineers.
Guermonprez remembers her own time at Tech as challenging because she was only taking chemical engineering and upper-level calculus courses during her two years here, as she had already completed other requirements at Armstrong State. "It was tough, but I survived," she says.
Raised by a single mother, she had to pay for almost 100 percent of her education at both universities. From working shifts in a library and a gift shop in Savannah to serving as a resident assistant in Glenn Hall and staff member at the former Junior's Grill on the Tech campus, Guermonprez emphasizes, "I had many jobs to pay for school."