Robert C. "Bud" Moeller has never let fear stop him from pursuing his dreams, from racing to the top in the consulting world to setting speed records in some of the fastest cars in existence.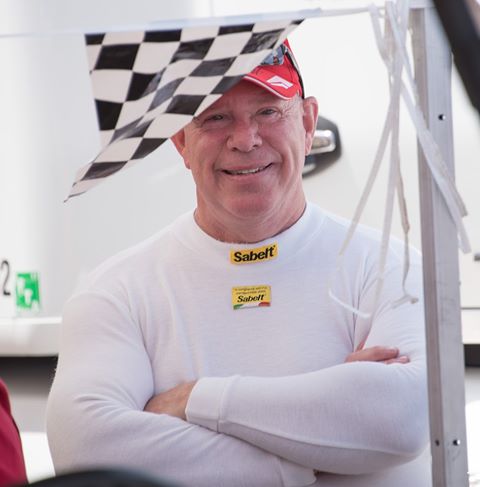 Robert C. "Bud" Moeller has never let fear stop him from pursuing his dreams, from racing to the top in the consulting world to setting speed records in some of the fastest cars in existence.
"I am fearless and relentless and go after what I want, despite the odds," says Moeller, who earned his bachelor's degree from Georgia Tech's School of Chemical and Biomolecular Engineering (ChBE) in 1976 and went on to become a partner with both Booz Allen Hamilton and Accenture during his management consulting career.
After earning his MBA at Harvard University immediately after his undergraduate studies, Moeller's increasing success in consulting enabled him to buy his first Ferrari at age 26 (he bought his wife, Carol, a grand piano at the same time).
Cars had grown into a passion for Moeller since he learned to drive the high-performance 1967 Mustang he convinced his father to buy as a family car. "I read everything I could get my hands on and became car crazy for life," he says.
By 32, he'd started racing semi-professionally, first in Indy-type cars and then in Formula Ones. In his thirty-plus years racing cars, he's broken the record at six different tracks in a Ferrari Formula One (five of which still hold).
Big in Japan
The large following he attracted as a driver led TV host David Letterman, another car enthusiast, to invite him onto his talk show in 2005 to discuss not only racing, but also Moeller's experiences as a child star growing up in Japan, where he lived from fourth through seventh grades due to his father's job transfer within the U.S. government.
Family connections led to an appearance on a sitcom designed for Japanese who were eager to learn English. "The feedback was tremendous, and the series got rewritten around me. For three seasons, I was a Dennis the Menace-type character in this English-language sitcom. Every episode was some sort of object lesson and full of trouble and mischief, usually caused by me."
When the family moved from Tokyo, Japan, to London, England when he started eighth grade, Moeller remembers, "I went from being a national celebrity to being no one."
Though his parents shielded him from a lot of the fanfare of fame, he credits the independence he enjoyed exploring the streets of Tokyo and London alone during his youth with some of his fearlessness.
Built for Speed
"I don't have the mental makeup that contributes to fear," he says. "If you're scared, you'll go too slow."
Moeller, who competes in about a dozen races annually, has survived several big crashes where he was "damaged pretty badly," including shattering his neck, an injury that required the installation of plates and screws in 2015.
"That can happen when you're pushing the envelope of physics at every corner and every lap," says Moeller, who is a brand ambassador for Ferrari. "But if you're tossed off a horse, you have to get back on it and ride it again."
Solving Management Challenges
Moeller says his no-fear mentality has also applied to his career in business consulting. "Solving tough management problems for business is a rush and a great challenge," he says. "They only hire consultants when they can't solve the issue themselves. So it's a lot of pressure, but also a great psychological reward for cracking the code."
Moeller, who spent 20 years with Booz Hamilton and five with Accenture, was inducted into the College of Engineering's Academy of Outstanding Young Alumni in 2002 and Alumni Hall of Fame in 2018.
"I appreciated the fact that Tech was willing to honor my career in business and all the things I've accomplished, even though I wasn't practicing as an engineer," Moeller says, adding that it "demonstrates the breath of careers available to engineers."
Georgia Tech's strong reputation and attractive package for National Merit Scholars attracted Moeller to study chemical engineering here after he finished high school in England, where he excelled in math and chemistry. Though born in Washington, D.C., he'd spent so much of his life overseas that "coming to college in the U.S. sort of felt like coming to a new country."
Leading the Way
During his sophomore year at Tech, Moeller's uncle, a businessman, asked him what he'd like to do for work, and Moeller realized he'd "be more satisfied in the leadership ranks than designing piping and pumping systems for refineries." He'd held numerous leadership roles in both high school and college and became president of his fraternity chapter during his sophomore year, saving it from near bankruptcy.
His demonstrated leadership abilities led Harvard University to admit him as an MBA student immediately after graduating from Tech, a rare feat without several years of real-world work experience.
Even though he didn't pursue a career in engineering, Moeller says the "rigors of the engineering discipline force not only logical thought, but also creativity in many situations where logical solutions aren't satisfactory. You have to think outside the box to find solutions that aren't obvious at first blush."
"My MBA education took it to the next level, forcing me to use the opposite side of my brain in areas like human resources, so I felt like I became equipped with the best of both worlds," he explains.
Hired by Booz Allen Hamilton right after Harvard, Moeller initially focused on corporate strategy and eventually evolved into organization, teamwork, and leadership to enable total corporate transformation.
During his years with Booz Allen Hamilton, Accenture, and now Mobius, where he is vice president of corporate strategy, Moeller has worked with companies around the world in almost every industry.
Giving Back
After leaving Accenture in 2002, Moeller decided to focus on pro bono consulting work for nonprofit organizations. He has served on 10 boards, including ChBE's External Advisory Board, where he helped with School's latest strategic plan.
"This is the most fabulous stage of life," says Moeller, who divides his time between Melbourne, Florida, and McLean, Virginia, often flying he and his wife (who have two grown children) in his own turboprop plane.
"I'm able to use my talents and experience to help organizations that can't afford outside consultants," he says. "All of these organizations are charged with reaching big objectives, and if I can craft an approach to help get there, I feel really satisfied."
Image