As studies show that the stress of the Covid-19 pandemic significantly contributes to rising alcohol consumption, two alumni of the Georgia Institute of Technology now offer an increasingly popular solution to curb or eliminate alcohol abuse: a sobriety a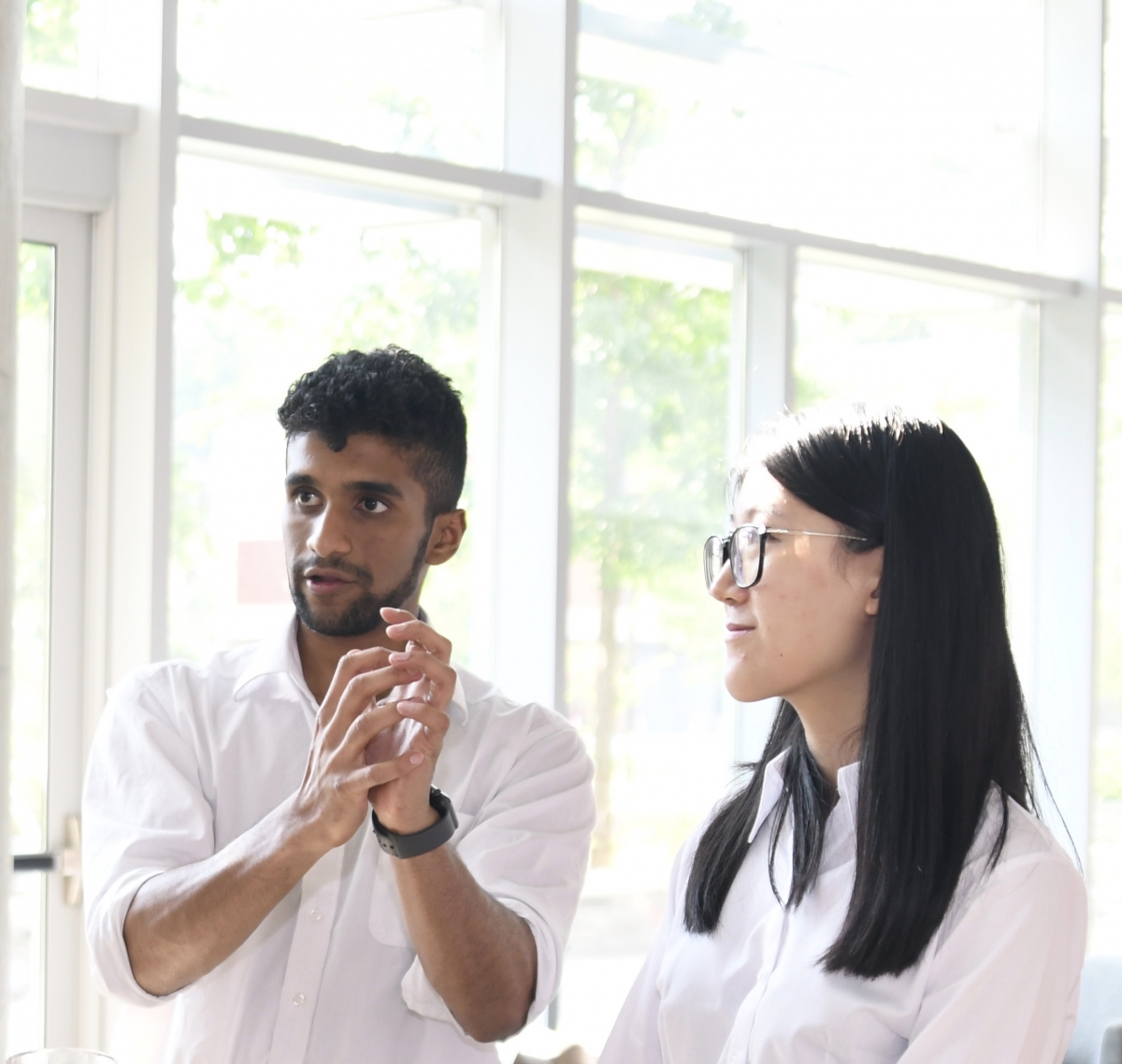 As studies show that the stress of the Covid-19 pandemic significantly contributes to rising alcohol consumption, two alumni of the Georgia Institute of Technology now offer an increasingly popular solution to curb or eliminate alcohol abuse: a sobriety app called Reframe.
Since the launch of its app in fall 2020, Reframe has drawn more than 3,000 paid subscribers. The company, which has received key support from Georgia Tech's CREATE-X program for developing startups, has also attracted the attention of investors, recently completing a $1.4 million round of seed funding.
Reframe's co-founders are Ziyi Gao, who earned a bachelor's in industrial engineering in 2017, and Vedant Pradeep, who graduated two years later with bachelor's degrees in chemical engineering and computer engineering.
Brainstorming
The two first got the idea for the app during an introductory Chemical Process Principles class in the School of Chemical and Biomolecular Engineering. Initially they targeted hypoglycemia detection but switched course when they realized that a similar product already existed.
They then turned their focus to obsessive-compulsive disorder, which Pradeep has struggled with, driving him into repetitive behaviors such as rechecking the locking of doors. "When I'm in the middle of a compulsion, I don't know when it will stop, but cognitive behavioral research shows that they typically end in 20 minutes," he said.
Expert Input
Designing an app that would distract users during the negative habit loop of OCD episodes, Gao and Pradeep showed a product prototype to doctors at Emory University and John Hopkins University who believed the technology would better help with alcohol addiction, which is also a much larger market.
"We realized early on that we were out of our depth, but we drew strength from reaching out to experts in this space, talking to at least 500 people," Gao said.
With a team of advising doctors and mentors from CREATE-X (Michael Polak and Rahul Saxena), Reframe has gone through multiple iterations of its app since mid-2019.
Interrupting Urges
The Reframe app's 120-day program provides diversions that interrupt users from the urge to consume alcohol during a typical 20-minute craving. The app's features include games, messages, meditations, breathing exercises, and a journaling component.
"When you're in the middle of a craving, your judgment is clouded," Pradeep said. "But it's easy to click a button and distract yourself. Reframe helps break bad habits by replacing them with good things that bring balance into life. Integrating fitness, nutrition, and self-care, we want to help users create lives where drinking alcohol is not considered helpful or attractive anymore. On their journeys, they can track their progress and how much money they've saved from not drinking."
Gao and Pradeep said that many people who use the app would never go to recovery centers, which are often expensive, or a program like Alcoholics Anonymous, which they might consider stigmatic.
While of many their app's users might not want to seek out professional help, they still want structured guidance, which is what the app provides, Pradeep said. "People want to be told what to do more than we expected."
The two entrepreneurs note that their app can put a recovery center in the user's pocket at "one thousandth of comparable cost" of a physical facility.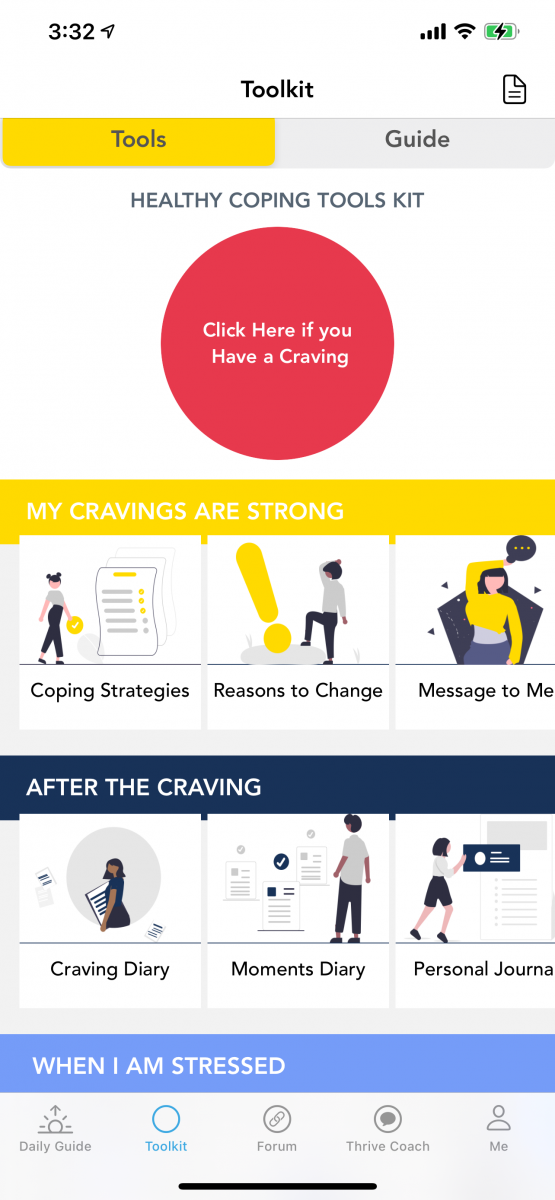 Goal Setting
About 50 percent of Reframe's users initially said they wanted to cut back on alcohol instead of quitting. "There haven't been many options for that middle ground," Gao said.
But what Reframe co-founders have noticed is that many people ultimately decide to quit entirely, with about 49 percent ceasing alcohol consumption in the first 30 days.
"As the program progresses, the goal becomes how to rebuild your life, addressing core issues," Pradeep said. "It's about the whole journey, not just about drinking. You better understand why you drink, as your triggers become more obvious."
Changing Lives
The app, which currently has a near-perfect rating on the App Store, has generated a lot of positive feedback for its creators. "We've received hundreds of emails from people whose lives have been transformed, and that's what we're really proud of at this point," Gao said.
The company was originally called Digital Sponsor, inspired by Alcoholics Anonymous' use of experienced human sponsors to guide participants. But they decided to change the name after realizing the app isn't only for those who've hit rock bottom.
"We didn't want to focus only on survival," Pradeep said. "The goal is not just to survive, but to thrive – to 'reframe' from the fear of loss to the potential for gain."
Growth Factors
Reframe's co-founders attribute the fast growth of their company to the large increase in alcohol abuse caused by the pandemic, as those struggling with drinking problems felt increasingly isolated with limited remote options for seeking help.
Kimberly French, an assistant professor in Georgia Tech's School of Psychology, shared insights into this phenomenon.
"Generally, people are certainly more stressed and lonely during the pandemic. In terms of alcohol use specifically, the story is a bit more complicated in that some people have increased consumption while others have decreased," she said.  "The data suggests that people who are most vulnerable – those with job insecurity, reduced job hours, unemployment, pandemic-related stress, women, and those who were already consuming alcohol – tended to increase their alcohol use during the pandemic.
French goes on to explain that research studies into the motivations of increased alcohol use cite coping with stress, loneliness, boredom, and a lack of structure coupled with more time.
In helping reach this population with their Reframe app, Gao and Pradeep are grateful for Tech's CREATE-X program, which aims to empower students with the knowledge, skills, and experiences to launch successful startups and pursue future entrepreneurial opportunities during their careers. CREATE-X supported Reframe's idea in 2018 with $20,000 pre-seed funding.
Until the recent infusion of $1.4 million in seed funding, Gao and Pradeep had operated on $120,000 from family and personal funds, saving money by handling as much of the research and development by themselves as possible.
Future Opportunities
Gao and Pradeep have plans to modify their app to address other addictions, starting with binge eating and later opioid abuse. "We want to provide tools that anyone can use for any negative behavioral habit," Gao said.
"In five years, we see Reframe as a mainstream solution that combats substance use and behavioral addictions in the same way that Weight Watchers has done for weight loss," Pradeep said.