Image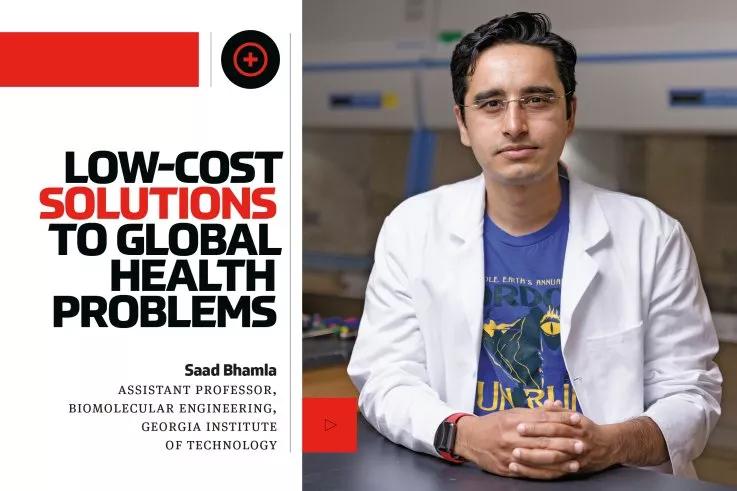 Saad Bhamla, assistant professor in Georgia Tech's School of Chemical and Biomolecular Engineering, is one of 10 visionaries featured in Newsweek who have carried the spirit of medical inquiry into the current age.
This is the second group in a Newsweek series this year focusing on Great Disruptors—what the magazine calls innovative agents of change who are using technology in new and creative ways that could potentially improve our lives.

Text from Section on Bhamla:

"High-tech solutions to the world's biggest health challenges typically share one critical impediment to mass adoption: cost. Medical innovation is expensive, which means lower-income individuals and poorer countries often can't afford to access it. Enter Saad Bhamla and his team of researchers at Georgia Institute of Technology's Bhamla Lab, all champions of "frugal science"—where the focus is on using simple concepts to develop low-cost technology that improves global health.
Consider, for example, their novel method for effectively delivering COVID-19 and other vaccines without some of the current costly requirements, such as ultra-low temperature storage. Inspired by the simple functionality of an electronic barbecue lighter, Bhamla and team created a low-cost handheld electroporation system, dubbed the "ePatch," which uses short electric pulses to drive molecules inside a cell—a critical step for mRNA vaccines to be successful—rather than relying on a chemical formulation as current vaccine delivery methods do.
'Since it is locally applied with microneedles applied to skin, uses inexpensive pulse generators based on barbecue lighters and is simple to manufacture (lighters are commonplace, from Malawi to Afghanistan), our technology has the potential to bring the power of mRNA vaccines to everyone,' Bhamla says."

Read Full Feature